Physiotherapy – Mornington, Hastings & Bentons Square
 Getting you back on your feet Physiotherapists study medical science subjects such as anatomy, neuroscience and physiology to develop skills to rehabilitate and improve people with movement disorders or injuries. This is achieved by using evidence-based, natural methods such as specialised hands-on techniques, exercise, specialty equipment, motivation and education. Beleura Health Solutions' physiotherapists specialise in developing individually tailored rehabilitation plans to suit your personal needs and goals. Our physiotherapists take care of the assessment, diagnosis and treatment of a variety of musculoskeletal and orthopaedic conditions.  We are conveniently located in 3 locations with clinics in Mornington, Bentons Square and Hastings. Common problems experienced by our patients:
Back and neck pain
Joint pain
Post operative rehabilitation
Sprains and strains
Sporting injuries / muscular pain
Poor strength and stability
Poor balance and mobility
Arthritic conditions
Headaches
Work related injuries
Obesity
  Depending on the result of diagnosis, the treatment
techniques used at Beleura Health Solutions are tailored to suit the ultimate goal of each patient. These treatment techniques include:
Joint and spine mobilization / manipulation
Massage techniques
Exercise prescription;

Strength
Balance
Weight Loss
Core Stability

Corrective taping techniques
Real time ultrasound imaging
Muscle retraining and strengthening
Clinical Pilates
Hydrotherapy
Dry Needling
Electrotherapy (TENS, muscle stimulation, ultrasound, heat and cold therapy)
Traction
Patient education
In addition to these techniques Beleura Health Solutions physiotherapists liaise with our other rehabilitative professionals, such as remedial masseurs, myotherapists and exercise physiologists, to ensure a comprehensive rehabilitation plan is prescribed. In fact, Beleura Health Solutions is the contracted supplier of physiotherapy services to The Bays Hospital in Mornington.
Specialised Physio Treatment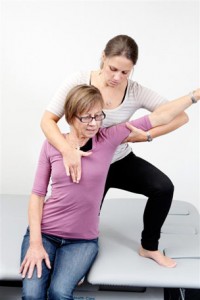 Steps Neurological Physiotherapy – consulting from our Mornington clinic – provides expert, comprehensive therapy for people with a neurological diagnosis. Neurological Physiotherapy involves hands on facilitation for relearning movement patterns, exercise therapy, and individually tailored functional rehabilitation. All Steps clinicians have experience in helping people with a wide range of neurological conditions, including brain Injury, Spinal Cord Injury, Stroke, Multiple Sclerosis, Cerebral Palsy, Muscular Dystrophies, Vestibular conditions, and more.
For further information visit www.stepsphysio.com.au
.
.
.
.
Pelvic Floor and Continence Physiotherapy.
Beleura Health Solutions' post graduate trained Pelvic Floor Physiotherapist provides specialist therapy for women, men and children in the management of pelvic floor and continence dysfunction. A supportive, individualised program is provided to ensure high standards of evidence based management and effective rehabilitation. Retraining the pelvic floor muscles may be effective for conditions including;
Pelvic floor muscles weakness
Stress and/or urge urinary incontinence
Faecal incontinence
Pelvic organ prolapse
Pregnancy and post natal rehabilitation
Pelvic and sexual pain
Men's health pre and post prostate surgery
Men's bladder and bowel dysfunction
Men with pelvic pain
A comprehensive assessment of your pelvic floor muscle function, carried out by our female physiotherapist, will ensure individual goals are achieved effectively. A home based program of regular progressions will also enable you to continue to exercise and maintain a healthy and independent lifestyle. For more details view our Women's and Men's Health section.